Wir bringen ein Stückchen Mysore zu Euch! Wir freuen uns riesig, dass der wunderbare Ashtanga Yoga Lehrer Ajay Tokas aus New Delhi / Indien auch dieses Jahr wieder zu uns ins Allgäu kommt! 
Über Ostern habt ihr endlich wieder die Gelegenheit von ihm und seiner Frau, Olga Iushkova, zu lernen.
We bring a piece of Mysore to you! We are very happy that the awesome Ashtanga Yoga Teacher Ajay Tokas from New Delhi / India will be back at our place in South-Germany in 2018. From 30.03. - 05.04. you will have the extraordinary opportunity to study with him and his wife Olga Iuskova.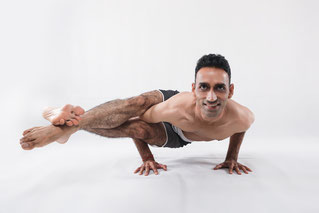 Ajay Tokas is a Level 2 authorized Ashtanga Yoga Teacher, having received the formal blessings of his Guru, Shri R. Sharath Jois to teach this yogic art.  Ajay started teaching in 2010 and so far have taught in China, Indonesia, Turkey, Philippines, Thailand, Russia, Kazakhstan , Europe , USA to name just a few. Currently Ajay is learning the fourth Series under the guidance of his Guru.   For more information check links 
 
Website: www.ashtangajay.com
Instagram: instagram.com/ajaytokas
Youtube: www.youtube.com/user/ashtangajay
Olga Iushkova: Olga had her first class of Ashtanga yoga in Oct'2010 and since then has been devoted to this practice. She made her first trip to Mysore in Jan'2013 and started learning under the Guidance of Shri R. Sharath Jois. Olga is an authorized Level  2 teacher and teaching since 2013 in Russia , Delhi , China and in Europe she assisted her husband Ajay Tokas in his workshops. Olga firmly believes in Ashtanga yoga as a unique & complete practice for self development.
SCHEDULE:                                                                                           All levels are welcome to join!!!
Friday, 30.03.2018:
Morning:  8-11 am - Mysore-Class


Saturday, 31.03.2018:

Morning: 8-11 am - Mysore-Class

Afternoon: 2-4 pm - Workshop: Fundamental of Primary Series

Primary series also known as Yoga Chikitsa heals the body and gives steadiness to the mind. In this workshop we will explore postures from Primary Series like Marichyasana , Kurma and Supta Kurmasana, Garbha Pindasana, Bhujapidasana, Navasana and many others. Ajay will share detailed info on anatomy of these asanas, how to do them correctly and safely to avoid chances of injury and ultimately getting deeper into the postures. This workshop focuses on integrating the strength and flexibility in Primary Series which prepares for further series of Ashtanga Yoga. All levels are welcome.
 

Sunday, 01.04.2018:

Morning: 9-11 am - Led-Primary


Afternoon: 2-4 pm - Workshop: Inversions

The world upside down, lot of people hold fear of fall or even to try inversions for many other reasons , learn the aspects of strength which helps to stay strong when you do inversions and let go of the fear. Ajay will teach fundamentals and drills in this "inversions"-workshop through which it helps the students understand the concept of balance, finding center in gravity and getting familiar with the foundations of balance. Also learning the key-details of postures like headstand, forearm balance, handstand and feel strong to safely move into the pose, holding it and safely coming out of it. 
Monday, 02.04. - Thursday 05.04.2018: 8 - 11 am - Mysore-Classes
PRICE:

Option 1: "Full program": 310,- €  (Early-bird-Tarif up to 31. January: 290,- €)
30.03. - 05.04.: 6 Mysore-classes, 1 Led-Primary, 2 Afternoon-Workshops
Option 2: "Weekend program": 210,- €

Friday - Sunday, 30.03. - 01.04.: 2 Mysore-Classes, 1 Led-Primary, 2 Afternoon-Workshops
(no early-bird!)
Option 3: "Drop-In": Single-Afternoon-Workshop: 60,- €                                       Drop-In-Class Led-Class or Mysore-Style: 40,- €
Option 4: "Only mornings": 240,- €
    6 Mysore-Classes, 1 Led-Class
Registration & further informations: info@ashtangayoga-allgaeu.de
After your registration per Mail we will send you the bank-details.
Your spot is reserved after the workshop-fee has been transfered.
Cancellation rules:
- up to 90 days before the workshop: cancellation-fee = 25 % of the price
- up to 45 days before the workshop: candellation-fee = 50 % of the price
- less then 45 days before the workshop: no refund possible, but you can
  send another person who joins the workshop instead of you; in case we
  have a waiting-list, we only keep a handling-fee of 10,- € and will refund the
  rest
deutsch:
Stornobedingungen:
- bis 90 Tage vor dem Workshop: Stornogebühr = 25 % des Gesamtpreises
- bis 45 Tage vor dem Workshop: Stornogebühr = 50 % des Gesamtpreises
- weniger als 45 Tage vor dem Workshop: keine Rückerstattung mehr
  möglich, es kann jedoch eine Ersatzperson geschickt werden, die statt Dir
  am Workshop teilnimmt; für den Fall dass wir eine Warteliste haben,
  behalten wir nur eine Bearbeitungsgebühr von 10,- € ein und erstatten Dir
  den Restbetrag zurück!
Location: Ashtangayoga Allgäu

                  87634 Oberguenzburg - GERMANY
Journey - how to get there?
Airport:
Transfer from the Allgäu-Airport to Obergünzburg can be organized!
Train Station: closest train-station is "Günzach" (4 km from Obergünzburg), Buses regularly
Bus:
Fernbus - there are long-distance-buses stopping in the small cities around
We are happy to help you if you have questions about coming here - just send a mail to info@ashtangayoga-allgaeu.de
Accommodation / Unterkunft-Tipps:
As we live on the countryside it is not easy with the accommodations. We tried our best and listed most of them for you - you can see on the document below:
Accommodations in & around Obergünzburg
Unterkünfte.doc
Microsoft Word Dokument
26.5 KB
If you still have questions please feel free to contact us:
Mail to info@ashtangayoga-allgeu.de
---
ASHTANGA YOGA WORKSHOP mit AJAY TOKAS
05. - 07.05.2017
---
About Mariela:
Mariela is committed to teach Ashtanga Yoga in the traditional way, as she has learned it from her teachers Sri K. Pattabhi Jois and Sharath Jois in the K. Pattabhi Jois Ashtanga Yoga Institute in Mysore, India. She runs a shala in Costa Rica. Long time ago she used to be a lawyer and is the happy mother of seven children. Her passion includes her family, music and India.

More informations: www.ashtangayogacostarica.com
---
---
OPEN YOUR HEART SOFTLY DYNAMIC-BACKBENDS
ASHTANGA YOGA ALLGÄU MEETS YIN YOGA IN KÖLN

Mit Sabine Schulz und Christoph Wagner (Ashtanga Yoga Allgäu) und Elisabeth Budenz (Yin Yoga, Köln)

Spüre an diesem Wochenende die hervorragende Ergänzung zu deiner kraftvollen dynamischen Ashtanga Praxis!
Der Morgen beginnt jeweils mit einer geführten Ashtanga-Yoga-Klasse. Am Samstag bildest du die nötigen Wurzeln, um am Sonntag im stabilen Stand zu sein, wenn du daran arbeitest, dein Herz in den Rückbeugen weit zu öffnen.
Erlebe am Nachmittag den sanften Teil dieses Yoga-Wochenendes: Elisabeth führt dich durch die Yin Yoga Praxis. Hierbei werden die Haltungen lange und ohne Muskelaktivität gehalten. Durch das lange Verweilen in den Haltungen erreichen wir das tiefe Bindegewebe. Sehnen und Bänder werden sanft gedehnt, Gelenke durchbewegt und der Energiefluss im Körper harmonisiert.
Ganz nach dem Motto "Open your heart softly dynamic" legen wir ein besonderes Augenmerk auf die Rückbeugen (backbends)….sanft und dynamisch!
Ablauf:
Samstag, 04.10.2014
8.30 – 11.00 Uhr: Ashtanga Yoga, Led Class: Build up your roots! (Sabine & Christoph)
13.00 – 15.30 Uhr: Yin Yoga - Backbends – Open your heart! (Elisabeth)

Sonntag, 05.10.2014
8.30 – 11.00 Uhr: Ashtanga Yoga, Led Class - Open your heart! (Sabine & Christoph)
13.00 – 15.30 Uhr: Yin Yoga, Milz & Magen Meridian (Elisabeth)

Die Einheiten sind auch einzeln buchbar!

Preise:
178 Euro / 162 € Frühbucherpreis (bei Anmeldung und Überweisung bis spätestens 12. September 2014)
Einen Tag (2 Einheiten): 88 € / 1 Einheit: 45 €
Plätze sind limitiert!

Ort:
Yogastudio Santosha
Brüsseler Str. 21
50674 Köln
Nähere Info's und Anmeldung:
info@e-y-m.com / www.e-y-m.com

---
---
---